RED CLOVER BOOKS 2023 - 2024
2023-2024 RED CLOVER BOOK AWARD NOMINEES
VERMONT'S PICTURE BOOK AWARD FOR CHILDREN IN GRADES K-4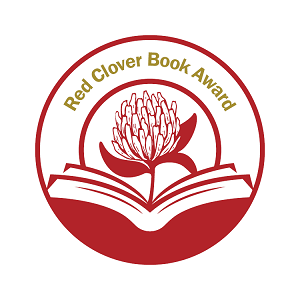 Abdul loves to tell stories. But writing them down is hard. His letters refuse to stay straight and face the right way. And despite all his attempts, his papers often wind up with more eraser smudges than actual words. Abdul decides his stories just aren't meant to be written down…until a special visitor comes to class and shows Abdul that even the best writers—and superheroes—make mistakes.


On an island at the edge of a wide, wild sea, a girl and her grandmother gather gifts from the earth. Salmon from the stream, herring eggs from the ocean, and in the forest, a world of berries.

Salmonberry, Cloudberry, Blueberry, Nagoonberry.

Huckleberry, Snowberry, Strawberry, Crowberry.

Through the seasons, they sing to the land as the land sings to them. Brimming with joy and gratitude, in every step of their journey, they forge a deeper kinship with both the earth and the generations that came before, joining in the song that connects us all.
As the day breaks,
feline eyes blink open,
and yowls disrupt the still morning air.

A young bobcat leaves tracks in the snow as he sets out to find a home range of his own. Amidst the harsh winds and icy chill of winter, Yearling travels between the deep wilderness and suburbia, hunting for prey as he goes. He tracks hare, squirrel, pheasant…

Watching.

Waiting.

LEAP!

But each time, he is foiled by the resident predator. Will Yearling find a territory to call his own?
At home in her seaside town in England, little Mary Anning stared out her window. Unlike other children, Mary couldn't wait for a rainy day. Because when it rained ... bones were revealed.

With her family, Mary would search the damp soil after a storm, hoping to find something nobody had ever seen before: a dinosaur.

After her father died, Mary continued her search, picking up his tools and venturing out alone. In her life, she discovered several creatures but was rarely given credit ... until recently.
This is a story of music.
Of obstacles.
Of strength and hard work.
Of all you can accomplish when you dream.

As a child, Evelyn Glennie's ears began to hurt. Voices became distant whispers. Ringing phones sounded like muffled crunches in her ears. But when she was told that she would need to wear hearing aids for the rest of her life, Evelyn was determined that this this would never stop her from playing music. Instead of giving up on her dreams, Evelyn found new ways to listen...
Little Good Wolf does not fit in with his family. No matter what Papa Wolf and Mama Wolf try, he is always cleaning his room or even playing with piggies! They have no choice but to send him to Bad School to learn to be a big, bad wolf.

But Little Good Wolf's teachers think he's hopeless, too. Wicked Stepmother cannot get him to be selfish, and Mr. Troll cannot teach him how to be rude. Will he ever be BAD enough? Or just maybe, there is a way to be a wolf while being GOOD?

When five-year-old Luli joins her new English as a Second Language class, the playroom is quiet. Luli can't speak English, neither can anyone else. That's when she has a brilliant idea to host a tea party and bring them all together.

Luli removes her teapot, thermos, and teacups from her bag and calls out "Chá!" in her native Chinese. One by one, her classmates pipe up in recognition: in Russian, Hindi, Turkish, Persian, Arabic, and Spanish, Portuguese, and Swahili. Tea is a tasty language they all know well, and it gives them a chance to share and enjoy each other's company. When all the tea is gone and it's time for dessert, Luli gets to use her favorite English word, cookie! After that, the playroom isn't so quiet.

A freewheeling romp through the world of imagery and metaphor, this quietly startling collection of thirty poems, framed by the four elements, is about art and reality, fact and fancy. Look around: what do you see? A clown balancing a pie in a tree, or an empty nest perched on a leafless branch? As poet Connie Wanek alludes to in her afterword—a lively dialogue with former US Poet Laureate Ted Kooser—sometimes the simplest sights and sounds "summon our imaginations" and cry out to be clothed in the alchemical language of poetry. This compendium of the fleeting and unexpected turns the everyday—turtles, trees, and tadpoles; cow pies, lazy afternoons, and pillowy white marshmallows—into poetic gold.
I know big sisters. Zora, the boss, she's mine, explains Lee as he and Zora head to the library, where Mrs. C is teaching the children how to sew. Though Zora sews a beautiful flower on her cloth square, little Lee makes a mess out of the half-moon he is trying to stitch. That night, when he can't sleep, he gives sewing another try...and succeeds, even mending the hole in his pants pocket! The next morning, he sneaks into Zora's room and sews the ear back on Bess, her stuffed bear. When Zora discovers Bess, she wraps Lee in her special big sister hug--for just a moment--and then is back to being the boss once again.
Potatoes can't do anything a pet should. They can't learn tricks, or go for walks, or snuggle up with Albert.

But to Albert's surprise, his potato begins to grow on him, and soon he can't imagine having any other pet.

When the potato begins to rot, Albert is devastated. He buries it in his garden, and with a lot of care and a bit of patience, he discovers that his potato can do a great trick after all . . .