John Flores
Library Director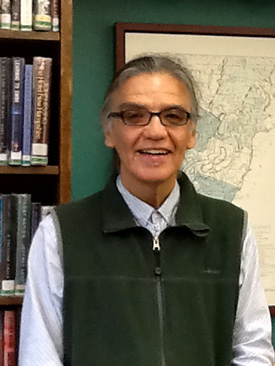 Contact
This email address is being protected from spambots. You need JavaScript enabled to view it.

802-348-7488
In order to get jumpstart on life, John was born at home in the City of the Angels, Los Angeles, California. Although he never encountered an angel, he became obsessed with the mystery. At an early age, he tried to read the family encyclopedia on a daily basis, but to no avail. He was three and could not read. He loved looking at the pictures, but he wanted to know what the words meant. The seed of curiosity was planted, and little did he know that this seed would one day lead him to become a librarian.
John graduated from the University of California, Davis with a Bachelor of Arts degree in Comparative Literature, and he received a Master of Library Science degree from the University of Pittsburgh. His first library job was at the Carnegie Library in Pittsburgh. He worked the Reference Desk under the guidance of his mentor, Don Snowden. From Don and the other Reference Librarians (all who had over twenty years of reference experience), John learned his trade.
John's main goal as a librarian is to provide accurate information, quality service, and to make available to the residents of Dover, the best library collection possible. In addition, he believes that every person that walks through the Dover Free Library door should be greeted in a warm and friendly manner, like a long lost dear relative.
John and his wife, Carol, live in Newfane with their three dogs and one cat: Winston Yellow Cloud (15-year-old Labrador Retriever), Charlie Moon Cloud (12-year-old Border Collie), Ruca Moon Cloud (7-year-old Border Collie), and Libby Grey Cloud (the cat, 8 years old). In addition, the Feather Cloud Family (they live in their own compound) consists of five chickens, which free range daily and produce the best eggs in the world.
In his spare time, John is a student of Henry David Thoreau, and he enjoys reading Sufi poetry and literature.