RED CLOVER BOOKS 2022 - 2023
2022-2023 RED CLOVER BOOK AWARD NOMINEES
VERMONT'S PICTURE BOOK AWARD FOR CHILDREN IN GRADES K-4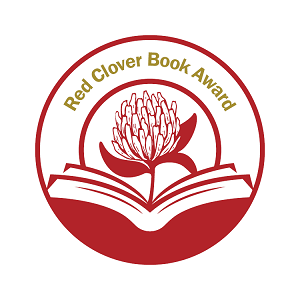 Stacey is a little girl who loves words more than anything. She loves reading them, sounding them out, and finding comfort in them when things are hard.

But when her teacher chooses her to compete in the local spelling bee, she isn't as excited as she thought she'd be. What if she messes up? Or worse, if she can't bring herself to speak up, like sometimes happens when facing bullies at school?

Stacey will learn that win or lose . . . her words are powerful, and sometimes perseverance is the most important word of all.
When we visit mi abuelo, I help him sell
frutas, singing the names of each fruit
as we walk, our footsteps like drumbeats,
our hands like maracas, shaking…

The little girl loves visiting her grandfather in Cuba and singing his special songs to sell all kinds of fruit: mango, limón, naranja, piña, and more! Even when they're apart, grandfather and granddaughter can share rhymes between their countries like un abrazo—a hug—made of words carried on letters that soar across the distance like songbirds.
The story of a package that gets lost, then found and an in-depth behind the scenes look at what happens at the post office.
Dougie has a secret: he's not a ground beetle.
He's a dung beetle, and he loves eating poop.

Dougie knows he should be proud. Dung beetles help process waste and do other extraordinary things! But Dougie also knows that if anyone at school saw his lunch, he'd be an outcast.

One day, the lunchroom bugs out over a classmate eating poop, and Dougie must make a choice. Can he stand up for his friend—and for his true self?
After watching the World Cup on television, a group of Thai boys is inspired to form their own team. But on the island of Koh Panyee, in a village built on stilts, there is no open space. The boys can play only twice a month on a sandbar when the tide is low enough. Everything changes when the teens join together to build their very own floating soccer field.
Hens and their chicks are living safe and secure in their coop, or at least it seems that way. They are happy with life as it is, and each hen knows her job. They don't even seem to notice when one of them is carried off from time to time.

Until the day the capybaras appear. To the hens, they are too hairy, too wet, and too big. They don't even follow the rules! But it's hunting season, and the capybaras need refuge.
Far from the city, but not quite the countryside, lies a fairground. When night comes and the fair is empty, something unexpected happens. Wild animals emerge from the forest, a brave raccoon pulls a lever, and the roller coasters and rides explode back into bright, neon life. It's time for the woodland creatures to head to the fair! In a gorgeous wordless picture book, author Gideon Sterer and illustrator Mariachiara Di Giorgio offer an exuberant take on what animals are up to when humans are asleep. Suffused with color and light, the panel illustrations celebrate the inherent humor and joy in deer flying by on chair-swings, a bear winning a stuffed bear, three weasels carrying a soft pretzel, and a badger driving a bumper car. With thrills both spectacular and subtle, Midnight Fair will have readers punching their tickets again and again to revel in this fantastic nocturnal world.
A tale about self-confidence and taking a leap of faith, starring a kingfisher.

Sometimes, you might fall

down,

down,

down,

before you learn to fly

up,

up,

up…
Driving through Ohio in an old Pontiac, a young girl's parents stop suddenly when they spot watercress growing wild in a ditch by the side of the road. Grabbing an old paper bag and some rusty scissors, the whole family wades into the muck to collect as much of the muddy, snail covered watercress as they can.

At first, she's embarrassed. Why can't her family get food from the grocery store? But when her mother shares a story of her family's time in China, the girl learns to appreciate the fresh food they foraged. Together, they make a new memory of watercress.

Andrea Wang tells a moving autobiographical story of a child of immigrants discovering and connecting with her heritage, illustrated by award winning author and artist Jason Chin, working in an entirely new style, inspired by Chinese painting techniques. An author's note in the back shares Andrea's childhood experience with her parents.

All across this great big world, jobs are getting done
by many hands in many lands. It takes much more than ONE.This is an exploration of the many types of work that go into building our world--from the making of a bridge to a wind farm, an amusement park, and even the very picture book that you are reading. An architect may dream up the plans for a house, but someone has to actually work the saws and pound the nails. This book is a thank-you to the skilled women and men who work tirelessly to see our dreams brought to life.