Golden Dome Book List 2023-2024
Golden Dome Book List 2023-2024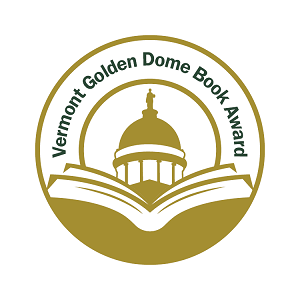 Twelve-year-old Emmie is working to raise money for a tricked-out wheelchair to get serious about WCMX, when a mishap on a poorly designed ramp at school throws her plans into a tailspin. Instead of replacing the ramp, her school provides her with a kind but unwelcome aide--and, seeing a golden media opportunity, launches a public fundraiser for her new wheels. Emmie loves her close-knit rural town, but she can't shake the feeling that her goals--and her choices--suddenly aren't hers anymore. With the help of her best friends, Emmie makes a plan to get her dreams off the ground--and show her community what she wants, what she has to give, and how ready she is to do it on her own terms.
Everyone in town knows and fears Ms. Laura Samuel Sett. She is the town watchdog, always on the lookout for unsavory words and the unsavory people who use them.

She is also Mac's sixth-grade teacher.

Mac and his friends are outraged when they discovered that their class copies of Jane Yolen's THE DEVIL'S ARITHMETIC have certain works blacked out. Mac has been raised by his mom and grandad to call out things that are wrong, so he and his friends head to the principal's office to protest the censorship. Her response isn't reassuring -- so the protest grows.
Evie Von Rathe lives in Blight Harbor—the seventh-most haunted town in America—with her Aunt Desdemona, the local paranormal expert. Des doesn't have many rules except one: Stay out of the abandoned slaughterhouse at the edge of town. But when her aunt disappears into the building, Evie goes searching for her.

There she meets The Clackity, a creature who lives in the shadows and seams of the slaughterhouse. The Clackity makes a deal with Evie to help get Des back in exchange for the ghost of John Jeffrey Pope, a serial killer who stalked Blight Harbor a hundred years earlier. Evie reluctantly embarks on a journey into a strange otherworld filled with hungry witches, penny-eyed ghosts, and a memory-thief, all while being pursued by a dead man whose only goal is to add Evie to his collection of lost souls. Will she ever find Des, or is The Clackity planning something far more sinister?
Annabelle Blake fully expects this school year to be the same as every other: same teachers, same classmates, same everything. So she's elated to discover there's a new kid in town. To Annabelle, Bailey is a breath of fresh air. She loves hearing about their life in Seattle, meeting their loquacious (and kinda corny) parents, and hanging out at their massive house. And it doesn't hurt that Bailey has a cute smile, nice hands (how can someone even have nice hands?) and smells really good.

Suddenly sixth grade is anything but the same. And when her irascible father shares that he and Bailey have something big (and surprising) in common, Annabelle begins to see herself, and her family, in a whole new light. At the same time she starts to realize that her community, which she always thought of as home, might not be as welcoming as she had thought. Together Annabelle and Bailey discover how these categories that seem to mean so much— boy, girl, gay, straight— aren't so clear-cut after all.

In his village in Upper Kwanta, 11-year-old Kofi loves his family, playing oware with his grandfather and swimming in the river Offin. He's warned though, to never go to the river at night. His brother tells him " There are things about the water you do not know . " Like what? Kofi asks. " The beasts ." His brother answers.

One fateful night, the unthinkable happens and in a flash, Kofi's world turns upside down. Kofi soon ends up in a fight for his life and what happens next will send him on a harrowing journey across land and sea, and away from everything he loves.
In this empowering deconstruction of the so-called American Dream, a twelve-year-old Japanese American girl grapples with, and ultimately rises above, the racism and trials of middle school she experiences while chasing her dreams. As the daughter of immigrants who came to America for a better life, Annie Inoue was raised to dream big. And at the start of seventh grade, she's channeling that irrepressible hope into becoming the lead in her school play. So when Annie lands an impressive role in the production of The King and I , she's thrilled . . . until she starts to hear grumbles from her mostly white classmates that she only got the part because it's an Asian play with Asian characters. Is this all people see when they see her? Is this the only kind of success they'll let her have—one that they can tear down or use race to belittle? Disheartened but determined, Annie channels her hurt into a new showing everyone what she's made of.
It's June's first day at Huey House, and as if losing her home weren't enough, she also can't bring her cherished viola inside. Before the accident last year, her dad saved tip money for a year to buy her viola, and she's not about to give it up now. Tyrell has been at Huey House for three years and gives June a glimpse of the good things about living there: friendship, hot meals, and a classical musician next door. Can he and June work together to oppose the government, or will families be forced out of Huey House before they are ready?
Isaac and Marco already know sixth grade is going to change their lives. But it won't change things at home—not without each other's help.
This year, star basketball player Isaac plans on finally keeping up with his schoolwork. Better grades will surely stop Isaac's parents from arguing all the time. Meanwhile, straight-A Marco vows on finally winning his father's approval by earning a spot on the school's basketball team.
But will their friendship and support for each other be enough to keep the two boys from falling short?

Elliott has been struggling since starting middle school, when his ADHD spiraled and his best friend moved away. He's not too sure where he fits in with his own family, either, especially since his newly remarried dad and stepmom are expecting a baby. Especially when he already feels like his dad just doesn't get him - or his passion for cooking. In the kitchen, it's actually a good thing to have a brain that goes in six different directions at once.

When he's paired with the popular and supersmart Maribel for a school-wide project, Elliott worries they won't see eye to eye. But Maribel is also looking for a way to show others her true self, and this project could be the chance they've both been waiting for.

Sometimes the least likely friends help you see a new side to things... and sometimes you have to make a few mistakes before you figure out what's right.
The epic story of our evolution in seven big steps!

How did we become who we are? With trademark wit, acclaimed science writer Pamela S. Turner breaks down human evolution into the seven most important steps leading to Homo sapiens. How, when, and why did we:

1.stand up,
2.smash rocks,
3.get swelled heads,
4.take a hike,
5.invent barbecue,
6.start talking (and never shut up), and
7.become storytellers?

This fascinating, wickedly funny account of our evolutionary journey turns science into an irresistible story. Vetted by experts at the Smithsonian's Human Origins Program, the book also features incredibly detailed portraits by celebrated paleo-artist John Gurche that bring our early ancestors to life.
Meet Odder, the Queen of Play:

Nobody has her moves.
She doesn't just swim to the bottom,
she dive-bombs.
She doesn't just somersault,
she triple-doughnuts.
She doesn't just ride the waves,
she makes them.

Odder spends her days off the coast of central California, practicing her underwater acrobatics and spinning the quirky stories for which she's known. She's a fearless daredevil, curious to a fault. But when Odder comes face-to-face with a hungry great white shark, her life takes a dramatic turn, one that will challenge everything she believes about herself—and about the humans who hope to save her.
Jeremy is not excited about the prospect of spending the summer with his dad and his uncle in a seaside cabin in Oregon. It's the first summer after his parents' divorce, and he hasn't exactly been seeking alone time with his dad. He doesn't have a choice, though, so he goes... and on his first day takes a walk on the beach and finds himself intrigued by a boy his age running by. Eventually, he and Runner Boy (Evan) meet -- and what starts out as friendship blooms into something neither boy is expecting... and also something both boys have been secretly hoping for.
As assistant to Mangkon's most celebrated mapmaker, twelve-year-old Sai plays the part of a well-bred young lady with a glittering future. In reality, her father is a conman—and in a kingdom where the status of one's ancestors dictates their social position, the truth could ruin her. Sai seizes the chance to join an expedition to chart the southern seas, but she isn't the only one aboard with secrets. When Sai learns that the ship might be heading for the fabled Sunderlands—a land of dragons, dangers, and riches beyond imagining—she must weigh the cost of her dreams.
Maizy has never been to Last Chance, Minnesota. . . until now. Her Mom's plan is just to stay for a couple weeks, until her grandfather gets better. But plans change, and as Maizy spends more time in Last Chance (where she and her family are the only Asian-Americans) and at The Golden Palace—the restaurant that's been in her family for generations—she makes some discoveries. For instance:
• You can tell a LOT about someone by the way they order food.
• And people can surprise you. Sometimes in good ways, sometimes in disappointing ways.
• And the Golden Palace has Secrets.

But the more Maizy discovers, the more questions she has. Like, why are her mom and her grandmother always fighting? Who are the people in the photographs on the office wall? And when she discovers that a beloved family treasure has gone missing—and someone has left a racist note—Maizy decides it's time find the answers.
Peter and his best friend, Tommy, have a goal for their last summer before middle school: finish their Discovery Journal, a catalog of the wildlife around their Florida town. When they spot a manatee in a canal, Peter knows they've found something special--and when the manatee is injured by a boat, something to protect!

As Peter joins the fight to save Florida manatees, he also finds himself taking care of his ailing grandfather and facing an unwelcome surprise that jeopardizes his friendship with Tommy. Soon Peter is adrift, navigating shifting tides and realizing that he has as much to discover about himself as he does about the world around him.
Safia thought that being blind meant she would only get to go on adventures through her audiobooks. This all changes when she goes to live with a distant and mysterious aunt, Lord Whimsy, who takes Safia on the journey of a lifetime!

While the reclusive Lord Whimsy stops an old rival from uncovering the truth behind her disappearance, Safia experiences parts of the world she had only dreamed about. But when an unlikely group of chaotic agents comes after Whimsy, Safia is forced to confront the adventure head-on. For the first time in her life, Safia is the hero of her own story, and she must do what she can to save the day.

And maybe find some friends along the way.
Meet Resilience, a Mars rover determined to live up to his name.

Res was built to explore Mars. He was not built to have human emotions. But as he learns new things from the NASA scientists who assemble him, he begins to develop human-like feelings. Maybe there's a problem with his programming....

Human emotions or not, launch day comes, and Res blasts off to Mars, accompanied by a friendly drone helicopter named Fly. But Res quickly discovers that Mars is a dangerous place filled with dust storms and giant cliffs. As he navigates Mars's difficult landscape, Res is tested in ways that go beyond space exploration.

As millions of people back on Earth follow his progress, will Res have the determination, courage--and resilience--to succeed... and survive?
This important work of nonfiction features powerful images of the Japanese American incarceration captured by three photographers—Dorothea Lange, Toyo Miyatake, and Ansel Adams—along with firsthand accounts of this grave moment in history.

Three months after Japan attacked Pearl Harbor in 1941, US President Franklin D. Roosevelt ordered the incarceration of all Japanese and Japanese Americans living on the West Coast of the United States. Families, teachers, farm workers—all were ordered to leave behind their homes, their businesses, and everything they owned. Japanese and Japanese Americans were forced to live under hostile conditions in incarceration camps, their futures uncertain.

Three photographers set out to document life at Manzanar, an incarceration camp in the California desert:

Dorothea Lange was a photographer from San Francisco best known for her haunting Depression-era images. Dorothea was hired by the US government to record the conditions of the camps. Deeply critical of the policy, she wanted her photos to shed light on the harsh reality of incarceration.

Toyo Miyatake was a Japanese-born, Los Angeles–based photographer who lent his artistic eye to portraying dancers, athletes, and events in the Japanese community. Imprisoned at Manzanar, he devised a way to smuggle in photographic equipment, determined to show what was really going on inside the barbed-wire confines of the camp.

Ansel Adams was an acclaimed landscape photographer and environmentalist. Hired by the director of Manzanar, Ansel hoped his carefully curated pictures would demonstrate to the rest of the United States the resilience of those in the camps.
Wherever there is injustice, nefarious plots, or threats to society, the Sheep, the Rooster, and the Duck are there to stop them!
A sly villain with a plan to cause havoc across the globe is no match for three extraordinary animals—and their two young human friends. From acclaimed author and artist Matt Phelan, The Sheep, the Rooster, and the Duck is a hilarious, action-packed, and highly illustrated middle grade adventure perfect for fans of Skunk and Badger and Flora & Ulysses.
The very first passengers to ride in a hot-air balloon were a sheep, a rooster, and a duck in 1783. And while hot-air balloons are indeed wondrous, ten-year-old Emile is too busy being the fastidious caretaker of ambassador Benjamin Franklin's château in Paris to think much about them.
But soon, young Emile finds himself right in the middle of a sinister plot. And right in the middle of the secret headquarters for France's undercover guardians—the very same sheep, rooster, and duck that piloted the first hot-air balloon. If Emile can muster his courage and be bold, he may be the key to helping the heroes save both Benjamin Franklin and the world.
Award-winning author Matt Phelan's The Sheep, the Rooster, and the Duck is a highly illustrated adventure full of secrets, hijinks, and reimagined historical events. This rip-roaring and surprising story is ideal for reluctant readers, aspiring heroes, and fans of Peter Brown's The Wild Robot.
Twelve-year-old Lark Heron-Finch is steeling herself to spend the summer on Swallowtail Island off the shores of Lake Erie. It's the first time she and her sister will have seen the old house since their mom passed away. The island's always been full of happy memories—and with a step father and his boys and no mom, now everything is different.

When Nadine, a close family friend, tells Lark about a tragic boat accident that happened off the coast many years before, Lark's enthralled with the story. Nadine's working on a book about Dinah Purdy, Swallowtail's oldest resident who had a connection to the crash, and she's sure that the accident was not as it appeared. Impressed by Lark's keen eye, she hires her as her research assistant for the summer.

And then Lark discovers something amazing. Something that could change Dinah's life. Something linked to the crash and to her own family's history with Swallowtail. But there are others on the island who would do anything to keep the truth buried in the watery depths of the past.

A compelling and complex mystery with a classic feel, Wreck at Ada's Reef is a perfect coming-of-age middle grade novel for fans of The Parker Inheritance, Holes, The Westing Game, and anyone looking for a satisfying puzzle that stretches across decades.
Bree can't wait for her first day at her new middle school, Enith Brigitha, home to the Mighty Manatees--until she's stuck with the only elective that fits her schedule, the dreaded Swim 101. The thought of swimming makes Bree more than a little queasy, yet she's forced to dive headfirst into one of her greatest fears. Lucky for her, Etta, an elderly occupant of her apartment building and former swim team captain, is willing to help.
With Etta's training and a lot of hard work, Bree suddenly finds her swim-crazed community counting on her to turn the school's failing team around. But that's easier said than done, especially when their rival, the prestigious Holyoke Prep, has everything they need to leave the Mighty Manatees in their wake.
Can Bree defy the odds and guide her team to a state championship, or have the Manatees swum their last lap--for good?
In her debut for younger readers, Aya de León pits a teen spy against the ominous workings of a white nationalist. Fourteen-year-old Andréa Hernández-Baldoquín hails from a family of spies working for the Factory, an international organization dedicated to protecting people of color. For her first solo mission, Andréa straightens her hair and goes undercover as Andrea Burke, a white girl, to befriend the estranged son of a dangerous white supremacist. In addition to her Factory training, the assignment calls for a deep dive into the son's interests—comic books and gaming—all while taking care not to speak Spanish and blow her family's cover. But it's hard to hide who you really are, especially when you develop a crush on your target's Latino best friend. Can Andréa keep her head, her geek cred, and her code-switching on track to trap a terrorist?
On October 16, 1968, during the medal ceremony at the Mexico City Olympics, Tommie Smith, the gold medal winner in the 200-meter sprint, and John Carlos, the bronze medal winner, stood on the podium in black socks and raised their black-gloved fists to protest racial injustice inflicted upon African Americans. Both men were forced to leave the Olympics, received death threats, and faced ostracism and continuing economic hardships.
In his first-ever memoir for young readers, Tommie Smith looks back on his childhood growing up in rural Texas through to his stellar athletic career, culminating in his historic victory and Olympic podium protest. Cowritten with Newbery Honor and Coretta Scott King Author Honor recipient Derrick Barnes and illustrated with bold and muscular artwork from Emmy Award–winning illustrator Dawud Anyabwile, Victory. Stand! paints a stirring portrait of an iconic moment in Olympic history that still resonates today.
Maggie Stephens's stutter makes school especially hard. She will do almost anything to avoid speaking in class or calling attention to herself. So when her unsympathetic father threatens to send her away for so-called "treatment," she reluctantly agrees to her mother's intervention plan: a few weeks in the fresh air of Wildoak Forest, visiting a grandfather she hardly knows. It is there, in an extraordinary twist of fate, that she encounters an abandoned snow leopard cub, an exotic gift to a wealthy Londoner that proved too wild to domesticate. But once the cub's presence is discovered by others, danger follows, and Maggie soon realizes that time is running out, not only for the leopard, but for herself and the forest as well.
Danny Timmons has looked up to Jack Bailey ever since Jack saved two small children from drowning during the Great Flood of 1940. Now, with his father away fighting in World War II and his mother about to have a new baby, Danny relies on Jack's friendship and guidance more than ever.
So when Jack goes missing without a trace from their small Appalachian town, Danny is determined to find him. He wonders if Jack's abusive father could be behind his disappearance, or if it has anything to do with Yonder—a hidden magical town Jack once spoke of, where flocks of rainbow birds fly through the sky and they've never heard of war. As answers elude him, Danny begins to fear that he didn't know Jack as well as he thought.
Ultimately, Danny's investigation forces him to reckon with even larger questions: What is America fighting for in this war? What role do each of us play in stopping injustices, big and small? And is there such thing as a true hero?
The Full List of Golden Dome Nominees