Green Mountain Book Awards 2022-2023
Green Mountain Book Award Nominees 2022-2023
The reader's choice award for Vermont students in grades 9 - 12.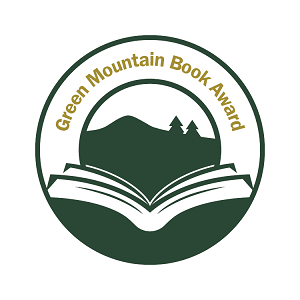 Sixteen-year-old Ana has just moved to New Jersey from Argentina for her Junior year of high school. She's a poet and a lover of language—except that now, she can barely understand what's going on around her, let alone find the words to express how she feels in the language she's expected to speak.

All Ana wants to do is go home—until she meets Harrison, the very cute, very American boy in her math class. And then there's her new friend Neo, the Greek boy she's partnered up with in ESL class, who she bonds with over the 80s teen movies they are assigned to watch for class (but later keep watching together for fun), and Altagracia, her artistic and Instagram-fabulous friend, who thankfully is fluent in Spanish and able to help her settle into American high school.

But is it possible that she's becoming too American—as her father accuses—and what does it mean when her feelings for Harrison and Neo start to change? Ana will spend her year learning that the rules of English may be confounding, but there are no rules when it comes to love.
A summer heatwave blankets New York City in darkness. But as the city is thrown into confusion, a different kind of electricity sparks…

A first meeting.

Long-time friends.

Bitter exes.

And maybe the beginning of something new.

When the lights go out, people reveal hidden truths. Love blossoms, friendship transforms, and new possibilities take flight.
One dark and stormy night, Haley sees a stranger drowning in the river. Since her greatest passion is Gothic romance novels, she knows her moment has come. But when Haley leaps into the water to rescue the stranger, she awakens in Willowweep. It certainly looks like the setting of one of her favorite books: A stately manor. A sinister housekeeper. Three brooding brothers. There's even a ghost.Except Willowweep is not what it seems. Its romantic exterior hides the workings of a pocket universe—the only protection our world has against a great force of penultimate evil, and its defenses are crumbling. Could cruel fate make Haley the heroine that Willowweep needs?
Three friends. One memory.
Vienna. 1936.

Three young friends—Leo, Elsa, and Max—spend a perfect day together, unaware that around them Europe is descending into a growing darkness and that they will soon be cruelly ripped apart from one another. With their lives taking them across Europe—to Germany, England, Prague, and Poland—will they ever find their way back to one another? Will they want to?

Inspired by a true story, When the World Was Ours is an extraordinary novel that is as powerful as it is heartbreaking and that shows how the bonds of love, family, and friendship allow glimmers of hope to flourish, even in the most hopeless of times.
Shiori, the only princess of Kiata, has a secret. Forbidden magic runs through her veins. Normally she conceals it well, but on the morning of her betrothal ceremony, Shiori loses control. At first, her mistake seems like a stroke of luck, forestalling the wedding she never wanted, but it also catches the attention of Raikama, her stepmother.

Raikama has dark magic of her own, and she banishes the young princess, turning her brothers into cranes, and warning Shiori that she must speak of it to no one: for with every word that escapes her lips, one of her brothers will die.

Penniless, voiceless, and alone, Shiori searches for her brothers, and, on her journey, uncovers a conspiracy to overtake the throne—a conspiracy more twisted and deceitful, more cunning and complex, than even Raikama's betrayal. Only Shiori can set the kingdom to rights, but to do so she must place her trust in the very boy she fought so hard not to marry. And she must embrace the magic she's been taught all her life to contain—no matter what it costs her.
"That book. It was about two women, and they fell in love with each other." And then Lily asked the question that had taken root in her, that was even now unfurling its leaves and demanding to be shown the sun: "Have you ever heard of such a thing?" Seventeen-year-old Lily Hu can't remember exactly when the question took root, but the answer was in full bloom the moment she and Kathleen Miller walked under the flashing neon sign of a lesbian bar called the Telegraph Club.America in 1954 is not a safe place for two girls to fall in love, especially not in Chinatown. Red-Scare paranoia threatens everyone, including Chinese Americans like Lily. With deportation looming over her father—despite his hard-won citizenship—Lily and Kath risk everything to let their love see the light of day.
Moth has lost her family in an accident. Though she lives with her aunt, she feels alone and uprooted.

Until she meets Sani, a boy who is also searching for his roots. If he knows more about where he comes from, maybe he'll be able to understand his ongoing depression. And if Moth can help him feel grounded, then perhaps she too will discover the history she carries in her bones.

Moth and Sani take a road trip that has them chasing ghosts and searching for ancestors. The way each moves forward is surprising, powerful, and unforgettable.

Here is an exquisite and uplifting novel about identity, first love, and the ways that our memories and our roots steer us through the universe.
New girl Rachel Chavez is eager to make a fresh start at Manchester Prep. But as one of the few scholarship kids, Rachel struggles to fit in, and when she gets caught up in a prank gone awry, she ends up with more enemies than friends.

To her surprise, however, the prank attracts the attention of the Mary Shelley Club, a secret club of students with one objective: come up with the scariest prank to orchestrate real fear. But as the pranks escalate, the competition turns cutthroat and takes on a life of its own.

When the tables are turned and someone targets the club itself, Rachel must track down the real-life monster in their midst . . . even if it means finally confronting the dark secrets from her past.
Sixteen-year-old Alex Rufus is trying his best. He tries to be the best employee he can be at the local ice cream shop; the best boyfriend he can be to his amazing girlfriend, Talia; the best protector he can be over his little brother, Isaiah. But as much as Alex tries, he often comes up short.It's hard to for him to be present when every time he touches an object or person, Alex sees into its future. When he touches a scoop, he has a vision of him using it to scoop ice cream. When he touches his car, he sees it years from now, totaled and underwater. When he touches Talia, he sees them at the precipice of breaking up, and that terrifies him. Alex feels these visions are a curse, distracting him, making him anxious and unable to live an ordinary life.And when Alex touches a photo that gives him a vision of his brother's imminent death, everything changes.With Alex now in a race against time, death, and circumstances, he and Isaiah must grapple with their past, their future, and what it means to be a young Black man in America in the present.
By day, Emilia is a field hockey star with a popular boyfriend and a mother obsessed with her academic future. But by night, she's kicking virtual ass as the only female member of a highly competitive eSports team. Emilia has mastered the art of keeping her two worlds thriving, which hinges on them staying completely separate.

When a major eSports tournament comes to her city, Emilia is determined to prove herself to the male-dominated gaming community. But her perfectly balanced life is thrown for a loop when a member of a rival team—Jake—recognizes her . . .
A slick, twisty YA page-turner about the daughter of a con artist who is taken hostage in a bank heist.

Nora O'Malley's been a lot of girls. As the daughter of a con-artist who targets criminal men, she grew up as her mother's protégé. But when mom fell for the mark instead of conning him, Nora pulled the ultimate con: escape.

For five years Nora's been playing at normal. But she needs to dust off the skills she ditched because she has three problems:

#1: Her ex walked in on her with her girlfriend. Even though they're all friends, Wes didn't know about her and Iris.

#2: The morning after Wes finds them kissing, they all have to meet to deposit the fundraiser money they raised at the bank. It's a nightmare that goes from awkward to deadly, because:

#3: Right after they enter bank, two guys start robbing it.

The bank robbers may be trouble, but Nora's something else entirely. They have no idea who they're really holding hostage…
Seventeen-year-old Iris Hollow has always been strange. Something happened to her and her two older sisters when they were children, something they can't quite remember but that left each of them with an identical half-moon scar at the base of their throats.

Iris has spent most of her teenage years trying to avoid the weirdness that sticks to her like tar. But when her eldest sister, Grey, goes missing under suspicious circumstances, Iris learns just how weird her life can get: horned men start shadowing her, a corpse falls out of her sister's ceiling, and ugly, impossible memories start to twist their way to the forefront of her mind.

As Iris retraces Grey's last known footsteps and follows the increasingly bizarre trail of breadcrumbs she left behind, it becomes apparent that the only way to save her sister is to decipher the mystery of what happened to them as children.

The closer Iris gets to the truth, the closer she comes to understanding that the answer is dark and dangerous – and that Grey has been keeping a terrible secret from her for years.
Ryland Grace is the sole survivor on a desperate, last-chance mission—and if he fails, humanity and the Earth itself will perish.

Except that right now, he doesn't know that. He can't even remember his own name, let alone the nature of his assignment or how to complete it.

All he knows is that he's been asleep for a very, very long time. And he's just been awakened to find himself millions of miles from home, with nothing but two corpses for company.

His crewmates dead, his memories fuzzily returning, he realizes that an impossible task now confronts him. Alone on this tiny ship that's been cobbled together by every government and space agency on the planet and hurled into the depths of space, it's up to him to conquer an extinction-level threat to our species.

And thanks to an unexpected ally, he just might have a chance.
Life in a small Appalachian town is not easy. Cash lost his mother to an opioid addiction and his Papaw is dying slowly from emphysema. Dodging drug dealers and watching out for his best friend, Delaney, is second nature. He's been spending his summer mowing lawns while she works at Dairy Queen.

But when Delaney manages to secure both of them full rides to an elite prep school in Connecticut, Cash will have to grapple with his need to protect and love Delaney, and his love for the grandparents who saved him and the town he would have to leave behind.
The boys of Huaxia dream of pairing up with girls to pilot Chrysalises, giant transforming robots that can battle the mecha aliens that lurk beyond the Great Wall. It doesn't matter that the girls often die from the mental strain.

When 18-year-old Zetian offers herself up as a concubine-pilot, it's to assassinate the ace male pilot responsible for her sister's death. But she gets her vengeance in a way nobody expected—she kills him through the psychic link between pilots and emerges from the cockpit unscathed. She is labeled an Iron Widow, a much-feared and much-silenced kind of female pilot who can sacrifice boys to power up Chrysalises instead.​

To tame her unnerving yet invaluable mental strength, she is paired up with Li Shimin, the strongest and most controversial male pilot in Huaxia​. But now that Zetian has had a taste of power, she will not cower so easily. She will miss no opportunity to leverage their combined might and infamy to survive attempt after attempt on her life, until she can figure out exactly why the pilot system works in its misogynist way—and stop more girls from being sacrificed.