Green Mountain Book Awards 2023-2024
Green Mountain Book Award Nominees 2023-2024
The reader's choice award for Vermont students in grades 9 - 12.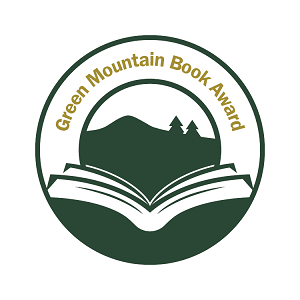 Joseon (Korea), 1758. There are few options available to illegitimate daughters in the capital city, but through hard work and study, eighteen-year-old Hyeon has earned a position as a palace nurse. All she wants is to keep her head down, do a good job, and perhaps finally win her estranged father's approval.

But Hyeon is suddenly thrust into the dark and dangerous world of court politics when someone murders four women in a single night, and the prime suspect is Hyeon's closest friend and mentor. Determined to prove her beloved teacher's innocence, Hyeon launches her own secret investigation.

In her hunt for the truth, she encounters Eojin, a young police inspector also searching for the killer. When evidence begins to point to the Crown Prince himself as the murderer, Hyeon and Eojin must work together to search the darkest corners of the palace to uncover the deadly secrets behind the bloodshed.
Family secrets, a swoon-worthy romance, and a slow-burn mystery collide in We Deserve Monuments, a YA debut from Jas Hammonds that explores how racial violence can ripple down through generations.

What's more important: Knowing the truth or keeping the peace?

Seventeen-year-old Avery Anderson is convinced her senior year is ruined when she's uprooted from her life in DC and forced into the hostile home of her terminally ill grandmother, Mama Letty. The tension between Avery's mom and Mama Letty makes for a frosty arrival and unearths past drama they refuse to talk about. Every time Avery tries to look deeper, she's turned away, leaving her desperate to learn the secrets that split her family in two.

While tempers flare in her avoidant family, Avery finds friendship in unexpected places: in Simone Cole, her captivating next-door neighbor, and Jade Oliver, daughter of the town's most prominent family—whose mother's murder remains unsolved.

As the three girls grow closer—Avery and Simone's friendship blossoming into romance—the sharp-edged opinions of their small southern town begin to hint at something insidious underneath. The racist history of Bardell, Georgia is rooted in Avery's family in ways she can't even imagine. With Mama Letty's health dwindling every day, Avery must decide if digging for the truth is worth toppling the delicate relationships she's built in Bardell—or if some things are better left buried.
The Sun Is Also a Star meets Jumanji when two teens meet and fall in love during a layover-gone-wrong at the Atlanta airport in this thrilling new novel from the author of Let's Get Lost!

James and Michelle find themselves in the Atlanta airport on a layover. They couldn't be more different, but seemingly interminable delays draw them both to a mysterious flashing green light--and each other.

Where James is passive, Michelle is anything but. And she quickly discovers that the flashing green light is actually... a button. Which she presses. Which may or may not unwittingly break the rules of the universe--at least as those rules apply to Hartsfield-Jackson Atlanta.

Before they can figure up from down, strange, impossible things start happening: snowstorms form inside the B terminal; jungles sprout up in the C terminal; and earthquakes split the ground apart in between. And no matter how hard they try, it seems no one can find a way in or out of the airport. James and Michelle team up to find their families and either escape the airport, or put an end to its chaos--before it's too late.
Asher Hunting wants revenge.

Specifically, he wants revenge on the drunk driver who killed his mom and got off on a technicality. No one seems to think this is healthy, though, which is how he ends up in a bereavement group (well, bereavement groups. He goes to several.) It's there he makes some unexpected friends: There's Sloane, who lost her dad to cancer; Will, who lost his little brother to a different kind of cancer; and eighty-year-old Henry, who was married to his wife for fifty years until she decided to die on her own terms. And it's these three who Asher invites on a road trip from New Jersey to Graceland. Asher doesn't tell them that he's planning to steal his dad's car, or the real reason that he wants to go to Tennessee (spoiler alert: it's revenge)—but then again, the others don't share their reasons for going, either.

Complete with unexpected revelations, lots of chicken Caesar salads at roadside restaurants, a stolen motorcycle, and an epic kiss at a rest stop minimart, what begins as the road trip to revenge might just turn into a path towards forgiveness.
Welcome to The Sunbearer Trials, where teen semidioses compete in a series of challenges with the highest of stakes, in this electric new Mexican-inspired fantasy from Aiden Thomas, the New York Times bestselling author of Cemetery Boys.

"Only the most powerful and honorable semidioses get chosen. I'm just a Jade. I'm not a real hero."


As each new decade begins, the Sun's power must be replenished so that Sol can keep traveling along the sky and keep the chaotic Obsidian gods at bay. Sol selects ten of the most worthy semidioses to compete in the Sunbearer Trials. The winner carries light and life to all the temples of Reino del Sol, but the loser has the greatest honor of all—they will be sacrificed to Sol, their body melted down to refuel the Sun Stones, protecting the world for another ten years.

Teo, a seventeen-year-old Jade semidiós and the trans son of the goddess of birds, isn't worried about the Trials . . . at least, not for himself. His best friend, Niya is a Gold semidiós and a shoo-in for the Trials, and while he trusts her abilities, the odds of becoming the sacrifice is one-in-ten.

But then, for the first time in over a century, the impossible happens. Sol chooses not one, but two Jade competitors. Teo, and Xio, the thirteen-year-old child of the god of bad luck. Now they must compete in five trials against Gold opponents who are more powerful and better trained. Worst of all, Teo's annoyingly handsome ex-best friend and famous semidiós Hero, Aurelio is favored to win. Teo is determined to get himself and his friends through the trials unscathed—for fame, glory, and their own survival.
The Chosen meets Adam Silvera in this irreverent and timely story of worlds colliding in friendship, betrayal, and hatred.

Hoodie Rosen's life isn't that bad. Sure, his entire Orthodox Jewish community has just picked up and moved to the quiet, mostly non-Jewish town of Tregaron, but Hoodie's world hasn't changed that much. He's got basketball to play, studies to avoid, and a supermarket full of delicious kosher snacks to eat. The people of Tregaron aren't happy that so many Orthodox Jews are moving in at once, but that's not Hoodie's problem.

That is, until he meets and falls for Anna-Marie Diaz-O'Leary—who happens to be the daughter of the obstinate mayor trying to keep Hoodie's community out of the town. And things only get more complicated when Tregaron is struck by a series of antisemitic crimes that quickly escalate to deadly violence.

As his community turns on him for siding with the enemy, Hoodie finds himself caught between his first love and the only world he's ever known.

Isaac Blum delivers a wry, witty debut novel about a deeply important and timely subject, in a story of hatred and betrayal—and the friendships we find in the most unexpected places.
A. L. Graziadei's Icebreaker is an irresistible YA debut about two hockey players fighting to be the best—and the romance that catches them by surprise along the way.

Seventeen-year-old Mickey James III is a college freshman, a brother to five sisters, and a hockey legacy. With a father and a grandfather who have gone down in NHL history, Mickey is almost guaranteed the league's top draft spot.

The only person standing in his way is Jaysen Caulfield, a contender for the #1 spot and Mickey's infuriating (and infuriatingly attractive) teammate. When rivalry turns to something more, Mickey will have to decide what he really wants, and what he's willing to risk for it.

This is a story about falling in love, finding your team (on and off the ice), and choosing your own path.
A love letter to Syria and its people, As Long as the Lemon Trees Grow is a speculative novel set amid the Syrian Revolution, burning with the fires of hope, love, and possibility. Perfect for fans of The Book Thief and Salt to the Sea.

Salama Kassab was a pharmacy student when the cries for freedom broke out in Syria. She still had her parents and her big brother; she still had her home. She had a normal teenager's life.

Now Salama volunteers at a hospital in Homs, helping the wounded who flood through the doors daily. Secretly, though, she is desperate to find a way out of her beloved country before her sister-in-law, Layla, gives birth. So desperate, that she has manifested a physical embodiment of her fear in the form of her imagined companion, Khawf, who haunts her every move in an effort to keep her safe.

But even with Khawf pressing her to leave, Salama is torn between her loyalty to her country and her conviction to survive. Salama must contend with bullets and bombs, military assaults, and her shifting sense of morality before she might finally breathe free. And when she crosses paths with the boy she was supposed to meet one fateful day, she starts to doubt her resolve in leaving home at all.
Soon, Salama must learn to see the events around her for what they truly are—not a war, but a revolution—and decide how she, too, will cry for Syria's freedom.
A Stonewall Honor Book

An achingly honest and frequently hilarious coming-of-age novel about an Arab American trans teen fighting to keep their head above water in a landlocked Midwestern town.

Man o' wars are not jellyfish, and River McIntyre is not happy. River doesn't know why they're unhappy—though perhaps it has something to do with the way they relate more to captive marine life at the local acquarium than to the people around them. That is, until they have a run in with Indigo "Indy" Waits on the annual class field trip. Face-to-face with an affirmed queer person, River leaps out of the closet and into the shark tank. Literally. What follows is a wrenching journey of self-discovery that spans years and winds through layers of coming out, transition, and top surgery, promising a free life for River with so much more than happiness: A life that's full of trans joy and true love.

"River is the most emotionally engaging character I've read in a long time, and this novel is a deep and comprehensive exploration of the journey transgender people trek through the confining world they're born into. Eye-opening, heartfelt, and real—with a massive payoff of true love." —A.S. King, author of Dig, winner of the Michael L. Printz Award
From #1 New York Times bestselling author Sabaa Tahir comes a brilliant, unforgettable, and heart-wrenching contemporary novel about family and forgiveness, love and loss, in a sweeping story that crosses generations and continents.

Lahore, Pakistan. Then.
Misbah is a dreamer and storyteller, newly married to Toufiq in an arranged match. After their young life is shaken by tragedy, they come to the United States and open the Clouds' Rest Inn Motel, hoping for a new start.

Juniper, California. Now.
Salahudin and Noor are more than best friends; they are family. Growing up as outcasts in the small desert town of Juniper, California, they understand each other the way no one else does. Until The Fight, which destroys their bond with the swift fury of a star exploding.

Now, Sal scrambles to run the family motel as his mother Misbah's health fails and his grieving father loses himself to alcoholism. Noor, meanwhile, walks a harrowing tightrope: working at her wrathful uncle's liquor store while hiding the fact that she's applying to college so she can escape him—and Juniper—forever.

When Sal's attempts to save the motel spiral out of control, he and Noor must ask themselves what friendship is worth—and what it takes to defeat the monsters in their pasts and the ones in their midst.

From one of today's most cherished and bestselling young adult authors comes a breathtaking novel of young love, old regrets, and forgiveness—one that's both tragic and poignant in its tender ferocity.
From Ryan La Sala, the wildly popular author of Reverie, comes a twisted and tantalizing horror novel set amidst the bucolic splendor of a secluded summer retreat.
Mars has always been the lesser twin, the shadow to his sister Caroline's radiance. But when Caroline dies under horrific circumstances, Mars is propelled to learn all he can about his once-inseparable sister who'd grown tragically distant.
Mars's genderfluidity means he's often excluded from the traditions -- and expectations -- of his politically-connected family. This includes attendance at the prestigious Aspen Conservancy Summer Academy where his sister poured so much of her time. But with his grief still fresh, he insists on attending in her place.
What Mars finds is a bucolic fairytale not meant for him. Folksy charm and sun-drenched festivities camouflage old-fashioned gender roles and a toxic preparatory rigor. Mars seeks out his sister's old friends: a group of girls dubbed the Honeys, named for the beehives they maintain behind their cabin. They are beautiful and terrifying -- and Mars is certain they're connected to Caroline's death.
But the longer he stays at Aspen, the more the sweet mountain breezes give way to hints of decay. Mars's memories begin to falter, bleached beneath the relentless summer sun. Something is hunting him in broad daylight, toying with his mind. If Mars can't find it soon, it will eat him alive.
New York Times bestselling author Tiffany D. Jackson ramps up the horror and tackles America's history and legacy of racism in this suspenseful YA novel following a biracial teenager as her Georgia high school hosts its first integrated prom.
When Springville residents—at least the ones still alive—are questioned about what happened on prom night, they all have the same explanation . . . Maddy did it.
An outcast at her small-town Georgia high school, Madison Washington has always been a teasing target for bullies. And she's dealt with it because she has more pressing problems to manage. Until the morning a surprise rainstorm reveals her most closely kept secret: Maddy is biracial. She has been passing for white her entire life at the behest of her fanatical white father, Thomas Washington.
After a viral bullying video pulls back the curtain on Springville High's racist roots, student leaders come up with a plan to change their image: host the school's first integrated prom as a show of unity. The popular white class president convinces her Black superstar quarterback boyfriend to ask Maddy to be his date, leaving Maddy wondering if it's possible to have a normal life.
But some of her classmates aren't done with her just yet. And what they don't know is that Maddy still has another secret . . . one that will cost them all their lives.
In a mind-bending MITeen anthology, ten top YA authors use emerging technologies to explore startling new realities.

What does the future hold? Ten speculative short stories by leading young-adult authors imagine what the world could be through the lens of technologies emerging today. When the modification industry transforms how humans look, sound, and interact, a nonbinary teen braves the "reinvention room" to accept a gift from the dead. In an accidental city in space, a young apprentice holds neighborhoods together with braided carbon filaments until distraction and inspiration arrive in the wake of a visitor. Entitlement-fueled drug use alters the landscape of white privilege, robots remember the Earth, and corporate "walkers" stroll for unknown subscribers—until one hacks the system. In tales buzzing with possibility, hope, innovation, anger, and tenderness, Tasting Light offers a dazzling challenge to connect with open minds, hearts, and senses in a fast-changing world.

With stories by:

William Alexander
K. Ancrum
Elizabeth Bear
A.R. Capetta
Charlotte Nicole Davis
Nasugraq Rainey Hopson
A.S. King
E.C. Myers
Junauda Petrus-Nasah
Wendy Xu
"Messy Roots is a laugh-out-loud, heartfelt, and deeply engaging story of their journey to find themself--as an American, as the daughter of Chinese immigrants, as a queer person, and as a Wuhanese American in the middle of a pandemic."—Malaka Gharib, author of I Was Their American Dream
After spending her early years in Wuhan, China, riding water buffalos and devouring stinky tofu, Laura immigrates to Texas, where her hometown is as foreign as Mars—at least until 2020, when COVID-19 makes Wuhan a household name.
In Messy Roots, Laura illustrates her coming-of-age as the girl who simply wants to make the basketball team, escape Chinese school, and figure out why girls make her heart flutter.
Insightful, original, and hilarious, toggling seamlessly between past and present, China and America, Gao's debut is a tour de force of graphic storytelling.
An IndieBound Bestseller
Falling in love just got sweeter in this charming, romantic YA graphic novel from WEBTOON, the #1 digital comic platform. Ray, a young seer struggling with her powers, discovers first love and friendship in her town's magic bakery.
In a very special town, there's an even more unusual bakery with a selection of baked treats hand-crafted to help your dreams come true. For Ray, a quiet young woman with special powers of her own, the order is always the same: a hot tea with a delicious side of romance.
When Ray meets Laurie, the kind barista who aspires to be a professional musician, she gets a real taste of love for the first time. But even with a spark of magic, romance isn't so simple. Both Ray and Laurie are chasing their own dreams and even when Ray starts to see the future, she can't predict her fate with Laurie.
Based on the beloved webcomic from WEBTOON, this sweet coming-of-age story of friendship and first love comes to life in graphic novel format with gorgeous illustrations and exclusive content.